Mulberry Upholstery Sheffield
Welcome to Mulberry Upholstery. We are a specialist in manufacturing bespoke electric riser recliner chairs as well as offering a comprehensive upholstery service where we go above and beyond to return your old furniture to its former glory.

How does our upholstery service work?
When you trust us with your upholstery requirements, this is our process:
1. Contact us (via phone or web form) and we will arrange a convenient time for our specialist to visit your home and assess your needs.
2. We provide a quote, agree on a delivery time, and take a deposit for the work.
3. We collect the piece of furniture (if appropriate) and take it back to our factory.
4. We delivery the finished product to you, and the final balance is paid.
To get started, call us to schedule a convenient appointment on 07917142543 or alternatively fill out the form below.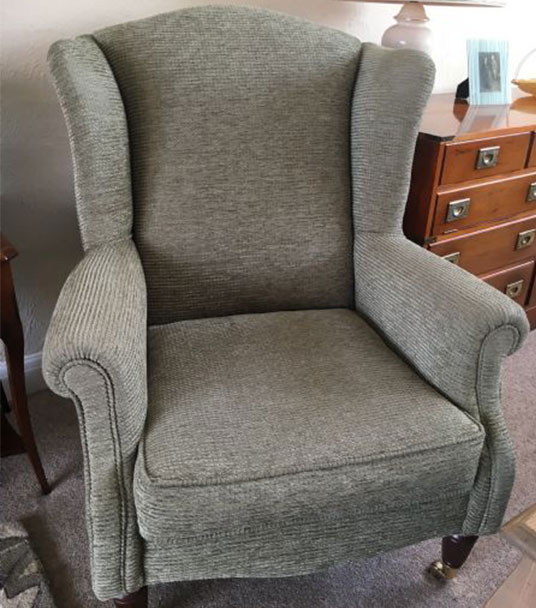 What is an upholstery service?
Upholstery is usually the process of adding padding, springs, webbing and covers (fabric or leather) to furniture, usually seating and chairs.
Re-upholstering is the process of upholstery onto old seating, in order to give it a new look and feel. The word upholstery comes from Middle English, from the word upholder, who was an artisan that held up their goods.
Where in Sheffield, South Yorkshire do you service?
We can offer an upholstery service across South Yorkshire, including Sheffield city centre, Netherthorpe, Park Hill, Neepsend, Burngreave, Hillfoot, Crookesmoor, Crookes, Steel Bank, Parkwood Springs, Highfield, Sharrow, Broomhall, Lowfield, Norton Hammer, Nether Edge, Millhouses, Beauchief, Whirlow, Dore, Totley, Dronfield, Meadowhead, Norton, Gleadless, Woodthorpe, Woodseats, Greenland, Newhall, Wincobank, Meadowhall, Crosspool, and Hallamshire.
We also serve Rotherham, the Peak District, Chesterfield, Stocksbridge, and more. Contact us today to find out if we can visit your area.
What types of furniture can you re upholster?
We can upholster sofas, sofa suits, chaise lounges, footstools, pouffee, ottomans, arm chairs, rocking chairs, fixed commercial seating, antique furniture, benches, cushions, and more!
Contact us today to get a quote for your re-upholstery needs in Sheffield.